Sony Xperia Z vs BlackBerry Z10 Comparison
Sony Xperia Z

vs

BlackBerry Z10

, which one do you choose to buy ? Sony Xperia Z and BlackBerry Z10 were both announced in the early 2013 and currently attract many public attentions all around the world. Sony Xperia Z is the latest flagship smartphone flagship by Sony while BlackBerry Z10 is the BlacyBerry (RIM) flagship this year.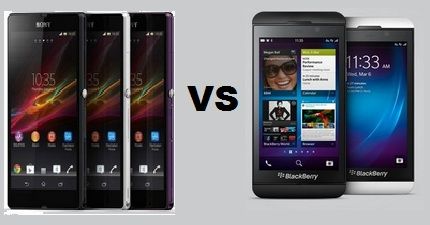 We would like to conduct a comparison between the two phones in term of their specifications. So, now lets us take a look at the comparison between Sony Xperia Z vs Blackberry Z10 based on the specifications below.
Operating System and processor
Sony Xperia Z runs on Android 4.1.2 Jelly Bean and is powered by 1.5GHz quad-core Qualcomm Snapdragon Processor. Sony also announced that the phone will get Android 4.2 Jelly Bean update soon after launch. BlackBerry Z10 running on newly announced BlackBerry 10 Operating System and was the first phone to experience the new OS alongside BlackBerry Q10. In term of operating system, we can't say much because BlackBerry 10 OS is still new and we still don't know exactly what the advantage is or how well it competes against the top OS such as Android and iOS. Both Sony Xperia Z and BlackBerry Z10 use 1.5 GHz Qualcomm Snapdragon processor, but Sony Xperia is equipped with quad-core processor compare to just dual-core processor on BlackBerry Z10.
Memory storage and RAM
Both phones have 16GB internal memory and 2GB of RAM. Both phones also has card slot for memory expansion via microSD.
Display specifications
BlackBerry Z10 is a 4.2 inch smartphone with 768 x 1280 pixels screen display resolution and 356 ppi (pixel density). Sony Xperia Z has a bigger size and a better resolution at 5-inch full HD, 1080 x 1920 pixels display resolution and 441ppi.
Camera (Sony Xperia Z vs BlackBerry Z10)
Sony Xperia Z has 13MP rear camera and 2.2 MP secondary cameras which is better than BlackBerry Z10 which has 8MP camera and 2MP secondary camera.
Special feature
Sony Xperia Z was designed with dust resistance and waterproof features which make the phone more special and attractive. Sony Xperia Z is also the first ever smartphone to have HDR mode for video. Blackberry Z10 is of course has a BlackBerry Messenger (BBM) which is available exclusively for BlackBerry phone.
Price and availability
At the moment, there is no official release date for both phones in Malaysia. However, according to the teaser image by Sony Malaysia, Sony Xperia Z could be launch in Malaysia on 6 March 2013. There will be an event to be held by BlackBerry Malaysia on 20 February 2013, but the details about the event is very limited although many expected that BlackBerry Z10 will be launch on that day.
Based on the comparison between Sony Xperia Z vs BlackBerry Z10 specifications, we can conclude that Sony Xperia Z is more complete smartphone than BlackBerry Z10.